Well, today is the big day!
I will be setting up my telescope on the patio at Starbucks to observe the transit of Venus across the face of the sun this afternoon.
A couple of weeks ago, while I was having my favorite dark roast coffee at Starbucks, I asked the lady manager if it would be OK if I were to set up my telescope on the patio so that everyone there can watch the transit of Venus on Tuesday, June 5th, and that there will not be another one until December 11,2117 which is 105 years from now.
She asked if I would be charging admission, and I said, no, because that would be unethical.
I believe that astronomical events should be observed free of charge. It don't cost anything just to look up at the sky. So, why should it cost to look at the sky through a tube? Right?
So, she said that would be OK then.
I also explained that since I don't have a proper sun filter, that I would be projecting the sun's image onto a sheet of white poster-board so that people won't have to get in line to look through the telescope, that instead, they could just see the projected image on the white poster-board as they walk by.
I explained how I was going to set it up, as depicted in my drawing below.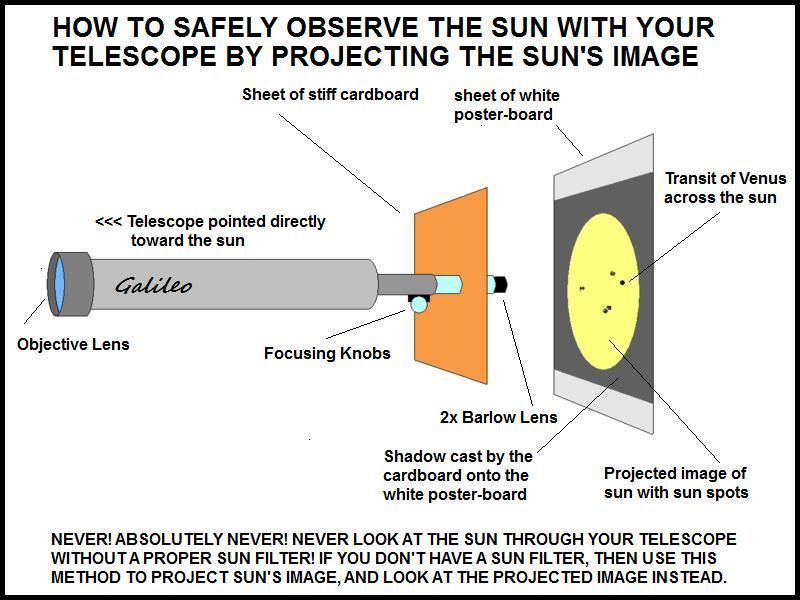 I made some modifications. Instead of a square sheet of cardboard, I made it circular instead, so it will be more streamlined when I take my telescope with me on the bus. A square sheet will only get in the way, and people might bump into it because of the corners.
This is what my telescope actually looks like.
It's the
Galileo
brand with a 60 mm objective lens having a 900 mm focal length. It has the German style equatorial mounting.
I also bought a directional compass and a protractor so that I can line up the polar axis with true north. Of course, that's easy to do at night when you can see Polaris the North Star. You just simply point the polar axis to the North Star. But during the day, since you can't see the stars, then you can't point the polar axis in the right direction.
Last night, I did a Google search to find out how many degrees difference there is between true north and magnetic north here in El Paso, Texas. But the latest information was for 2008 when magnetic north was about 10 degrees east of truth north. So, I called the El Paso Airport to find out, and I was connected with the control tower. The man there said he didn't know the latest information, but to give him my phone number so he could call back. About a half hour later, he called back and said that according to the observatory at Mount Davis, that this year, 2012, magnetic north here in El Paso is now 8.31 degrees east of truth north.
The magnetic poles shift around a little bit from one year to the next, so I needed the latest information. Now, all I have to do is use my directional compass which points to magnetic north, and set up my tripod so that the polar axis points approximately 8.3 degrees west of magnetic north, and then, using my protractor to get it set close enough, and then, I adjust the polar axis for approximately 31.75 degrees north latitude.
Of course, it won't be perfect, but close enough.
I'll be able to follow the sun with just a single sweeping motion with my telescope using the polar axis, but I'll still have to make small adjustments in north/south declination axes since it won't be set up perfectly, but, it will be close enough.
Anyway . . . . . I'll be getting ready to go out at about 2:00 PM this afternoon so I can catch the bus going up Mesa Street. I want to get to Starbucks at least an hour before the Venus transit starts at 4:05 PM so I'll have enough time to set up my telescope.
Yeah, I'm really looking forward to this special event.
It's gonna be cool.
Well, the sun's gonna be hot, but you all know what I mean.