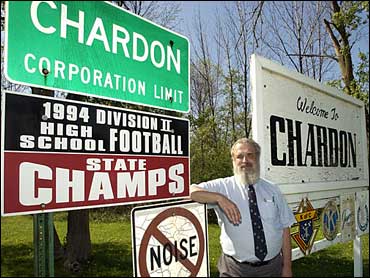 City council considers sacking signs touting football triumphs
Thursday, May 8, 2003
CHARDON, Ohio (AP) -- Self-described science geek Truman Parkinson thinks the jocks have had their mark on this town for long enough. The retired physicist wants signs at the city limits honoring Chardon High School's 1994 state football champs to come down.
In their place, he envisions signs promoting Chardon as the home of the middle school state champion Science Olympiad team.
"There's still a perceived mentality that football reigns over everything," he said. "It's just plain embarrassing."
Because of his complaints, City Council members will consider on Thursday a ban on all such markers in the growing community of 5,100 about 25 miles east of Cleveland.
Chardon is not unlike other cities that honor champion athletes, notable residents and community achievements with proud placards. The city of Massillon boasts 22 state football championships; Kent brags about its fine drinking water; both Elizabeth and Palestine, W.Va., had signs claiming former prisoner of war Jessica Lynch as their own before she even returned home.
But in Chardon, the question of who should receive recognition has become political.
"It's a tough question. It's definitely a worthy concept to at least talk about," Councilman Larry Baptie said. "How do you do it fairly and equally across the board?"
Chardon was once a small farming community, but its quaint downtown and open spaces have attracted people who want a taste of the country. If the town were to honor all of its school-related achievements over the past decade, the entrances to town would be more cluttered than a proud mother's refrigerator door.
The school district has a champion football team, tennis player, track team, physics team, cheerleading squad, several national merit scholars, a distinguished principal and the Science Olympiad team (which, by the way, has won two straight state titles).
Parkinson, 60, acknowledges this is a problem, but said it's a manageable one. He proposes leaving signs up for two or three years, or possibly honoring different accomplishments at each of the six entrances to the city.
Parkinson said he has nothing against the 1994 state football champions. But he said the students from that team have moved on to college and careers and that their signs should move on as well. He believes students need encouragement, particularly to pursue academic achievement, while they still live in town. "Recognize the accomplishments of these kids while it can do them some good," he said.
Baptie, the councilman who has proposed the ban, said he agrees students should be recognized but questions whether City Council should decide who gets a sign and who doesn't.
"That puts council in the bind of what's worthy," Baptie said.
Massillon Mayor Frank Cicchinelli said some signs in his city come and go, like one honoring a 1998 championship Hot Stove baseball team, which came down this year. But the 22 state championships of the Massillon Washington Tigers will always remain up in the football crazy town.
"Let's face it. Northeast Ohio is very sports oriented. There's nothing wrong with that, but we would honor any achievement by students," he said.